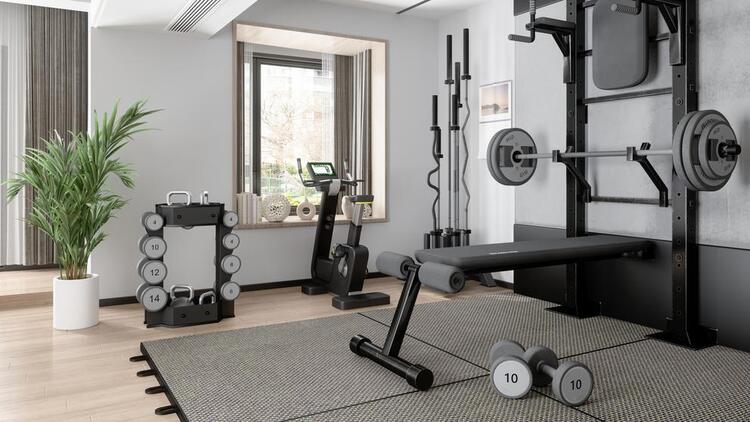 Home gyms and workout equipment have drastically increased in popularity over the past several years. This was especially pronounced during the COVID-19 lockdowns, which saw many commercial gyms close or go virtual.
In 2020, nearly half of homebuyers considered space for a home gym as a factor in their purchase decision, according to the National Association of Home Builders. Gym equipment revenue in general more than doubled between March and October of 2020, with stationary bike sales tripling during that same period.
While some fitness buffs own just a bike, others have created entire home gyms, with weight systems and cardio equipment, such as rowers, orbital trainers and bikes.
Building a home gym is an investment in good health, with "investment" being the operative word. For example, an internet-connected bike is more than $1,000 for a new model, weight-lifting systems run four times that amount, and a full home gym with a variety of equipment can cost tens of thousands of dollars.
Will homeowners insurance cover your home gym?
Are these expensive machines covered under homeowners insurance? What about property damage caused by workout equipment? Imagine losing your grip on your kettlebell and sending it flying through your sliding glass door, causing substantial damage. Does your homeowners insurance cover the cost of replacing the door?
Or imagine installing a wall workout system in your garage, only for a leaky patch in the roof to damage it. Is the machine covered under your existing policy?
With such an expensive investment at risk, you may wonder if your home gym is fully covered under your existing homeowners, renters or condo insurance policy.
You might assume you can just add your gym equipment to your personal property and insure it under your homeowners, condo or renters insurance, but know that standard policies might not offer the coverage you'd expect.
In many cases, your coverage depends on where you store the equipment. For example, it may be insured in a basement or home office, but if it's located in a shed you've converted into a home gym or even in a garage, it might not be covered. For equipment stored in separate structures, some companies impose dollar amount limits on coverage, while others exclude theft or water damage.
If you have a home gym or equipment that exceeds your deductible, ping your insurance agent. They can look over your policy and tell you what level of coverage you have for that equipment and if there are any restrictions on where it can be located.
Remember that items in a basement may be susceptible to sewer or drain backups, or flooding from swollen creeks or other natural water sources. Such damage requires special coverage in excess of your homeowners policy, such as a sewer/drain backup endorsement or a flood insurance policy that specifically covers contents.
Personal injury is a concern
Homeowners and renters insurance won't cover you if you are injured while using your home gym equipment; that falls to your health insurance. But what about injuries to others who are using your equipment? That's a bit complicated, because your liability for injuries to others will be based on whether you were neglectful or careless. If you haven't maintained your equipment or have a cluttered space that leads to injury, you could be found liable.
If someone outside your family is injured while using your gym equipment, costs for medical care, lost wages and disabilities could be astronomical. Because gym injuries can be substantial, you should make sure you have liability insurance. This is especially important if you like working out with friends or have a personal trainer who comes to your home gym.
Personal liability coverage is part of homeowners, renters and condo insurance, but it's important to check that use of gym equipment is covered. The equipment could be considered an "attractive nuisance," which means it can draw people who are not qualified to use it. Some insurers exclude attractive nuisances from coverage or require a special addendum to the insurance policy.
If you hire a personal trainer to come to your home or you host small-group fitness classes in your home gym, you have special insurance needs. Any fitness instructor you bring into your gym should have their own liability insurance in case of a gym-related injury or property damage. Your insurance agent may be able to help you understand what business insurance the trainer has and what level of protection it offers for your equipment, home and assets. Your home insurance policy likely excludes income-generating activities, so make sure there is no protection gap before using your equipment for income.
If a disaster should happen and you need to make a claim, having an accurate inventory with receipts for your gym equipment will help. You should also look into whether your policy includes accidental damage coverage. This type of coverage is available through some homeowners and renters policies but is often not standard and may be limited. For garage gyms or those housed in other structures such as sheds, there may be different terms or lower limits of coverage that you should be aware of.
Reducing your risk of financial loss resulting from injury to others or damage to your equipment is an ongoing process. You'll need to stay on top of machine maintenance and secure your equipment. By taking simple precautions to prevent unsupervised access to your gym and protect equipment from theft, water intrusion, power surges and wind damage, your gym should be fit as a fiddle.